JAKARTA – Daftar lengkap nominasi Golden Disc Awards ke-34 secara resmi dirilis pada Jumat (6/12). Ada empat kategori nominasi yang akan diumumkan pada gelaran tahun depan termasuk Digital Song Division Bonsang, Album Division Bonsang, Rookie of the Year, serta Popularity Award.
Ajang penghargaan untuk musisi Korea ini bakal kembali digelar pada 4-5 Januari 2020. Di hari pertama, penghargaan diberikan kepada rilisan digital terbaik, sementara rilisan fisik mendapat giliran di hari kedua.
Golden Disc Awards 2020 menentukan syarat lagu dan album yang dirilis antara Oktober 2018 sampai Oktober 2019 sebagai nominasi.
Penjualan dan streaming dari situs-situs didata sampai pertengahan Desember akan dikumpulkan kemudian dari Gaon Chart. Berikut daftar lengkap nominasi Golden Disc Awards ke-34.
Digital Song Division Bonsang
AKMU – "How can I love the heartbreak, you're the one I love"
Ben – "180 Degree"
BLACKPINK – "KILL THIS LOVE"
BOL4 – "Bom"
BTOB – "Beautiful Pain"
BTS – "Boy With Luv"
Chen – "Beautiful goodbye"
Chungha – "Gotta Go"
Davichi – "Unspoken Words"
EXO – "Love Shot"
HAEUN – "Shin Yong Jae"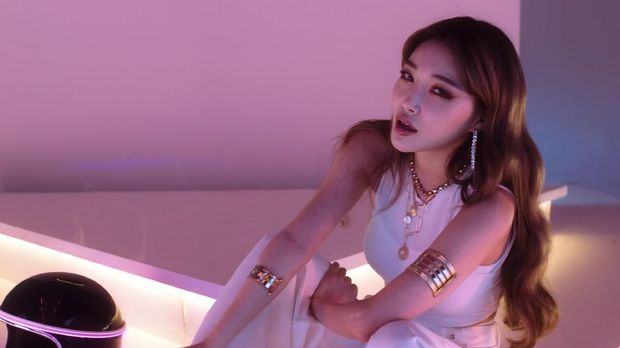 Hwang In Wook – "Phocha"
Hwasa (MAMAMOO) – "twit"
ITZY – "DALLA DALLA"
Jang Bum Joon – "Karaoke"
Jang Hye Jin & Yoon Min Soo – "Drunk On Love"
JANNABI – "For Lovers Who Hesitate"
Jennie (BLACKPINK) – "SOLO"
Kassy – "The day was beautiful"
Lee Sora – "Song Request" (Feat. Suga)
MAMAMOO – "gogobebe"
M.C the MAX – "After You've Gone"
N.Flying – "Rooftop"
Paul Kim – "Me After You"
Song Ha Ye – "Your Regards"
Taeyeon (Girls' Generation) – "Four Seasons"
TWICE – "YES or YES"
WINNER – "MILLIONS"
Woody – "Fire up"
Yoon Gun – "Just Let Me Go"
Album Division Bonsang
AB6IX – "B:COMPLETE"
ASTRO – "All Light"
ATEEZ – "TREASURE EP.FIN : All To Action"
Baekhyun (EXO) – "City Lights"
BTS – "Map of the Soul : Persona"
Chen (EXO) – "April, and a flower"
EXO-SC – "What a life"
GFRIEND – "Time for us"
GOT7 – "SPINNING TOP : BETWEEN SECURITY & INSECURITY"
Hwang Chi Yeol – "The Four Seasons"
IZ*ONE – "HEART*IZ"
Jus2 (GOT7) – "FOCUS"
Kim Jae Hwan – "Another"
MONSTA X – "WE ARE HERE"
NCT Dream – "We Boom"
NU'EST – "Happily Ever After"
NU'EST W – "WAKE,N"
Park Ji Hoon – "O'CLOCK"
Red Velvet – "The ReVe Festival – Day 1"
SEVENTEEN – "An Ode"
Stray Kids – "Clé 1 : MIROH"
Super Junior – "Time_Slip"
Taemin (SHINee) – "WANT"
Taeyeon (Girls' Generation) – "Purpose"
The Boyz – "THE ONLY"
TVXQ – "New Chapter #2 : The Truth of Love"
TWICE – "Feel Special"
TXT – "The Dream Chapter: MAGIC"
WINNER – "CROSS"
Yunho – "True Colors"

Rookie of the Year
AB6IX
ATEEZ
CIX
HAEUN
HYNN
ITZY
Kang Daniel
Kim Jae Hwan
Park Ji Hoon
TXT
X1
Popularity Award
AB6IX
ASTRO
ATEEZ
BLACKPINK
BTOB
BTS
Chungha
EXO
GFRIEND
GOT7
ITZY
Kang Daniel
Kim Jae Hwan
MAMAMOO
MONSTA X
NCT Dream
N.Flying
NU'EST
Park Ji Hoon
Red Velvet
SEVENTEEN
Stray Kids
Super Junior
Taemin (SHINee)
Taeyeon (Girls' Generation)
The Boyz
TVXQ
TWICE
TXT
WINNER
Editor: PARNA
Sumber: CNN Indonesia